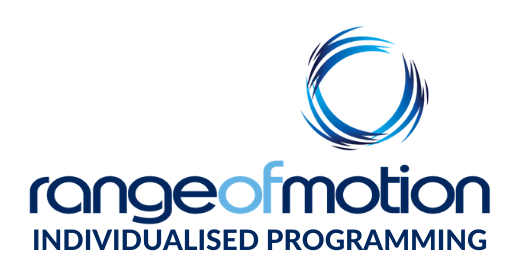 Range of Motion Individualised Programming and Education for Fitness Professionals
Are you a Fitness Professional who wants to further your expertise and professional development, at the same time as developing your own fitness, strength, performance and health?
Dan Williams has combined the Education and Individualised Programming branches of Range of Motion to create a unique and ongoing learning and training experience tailored specifically to the Fitness Professional.
Dan will not only provide you with individualised online Exercise Programming and Personal Coaching, but will also incorporate a detailed educational experience to accelerate your knowledge and expertise in exercise science and physiology, programming, musculo-skeletal health, injury rehabilitation, movement assessment and correction, and biomechanics.
You want to improve your knowledge of exercise programming.
You want to personally experience and train a very wide range of different training methodologies, and be able to implement them with your clients.
You spend all your time giving to your clients and your own health and fitness is suffering.
You need your own Personal Coach to hold you accountable to consistent exercise habits, and guide you through something new.
You're time poor, and need an efficient way to be able to prioritise your own health and fitness between your own classes, semi-private training or personal training sessions.
You feel like the fitness industry is exploding with new methodologies, and you want to keep up with the latest training styles and science.
You feel like, as a Fitness Professional, you need to set a better example to your clients, friends and family.
Online Programming:
A detailed and 100% individualised online program, delivered to you weekly. Includes specific pre- exercise activation and mobilisation work, your daily training, and post- exercise mobilisation and stabilisation. Tailored to your goals, strengths and weaknesses, time constraints, level of fitness, experience, equipment and space limitations, injuries, medical conditions and any other variable that we can individualise for. Check out a four day sample program here.
Detailed Session Notes for every training session:
This is where we turbocharge your knowledge by going deep into the programming science, health and body composition benefits, performance benefits, training strategy, intended feeling and stimulus, scaling guidelines and common mistakes. Each session's Session Notes is like its own Exercise Physiology and Strength and Conditioning Lecture. View a sample of the Session Notes here.
Demo and Instructional Videos:
Unlimited Weekly Movement Assessments:
Feedback on Every Training Day:
Comments and feedback from Dan on every session you do, allowing constant communication to maximise the success of your training and education.
Complete Access and Communication:
Round-the-clock access to Dan to ensure you're getting the most out of your program and tuition.
Contact us now to schedule a video call to see if this is for you. 'Range of Motion Individualised Programming for Fitness Professionals' is available for $60/week, all inclusive.