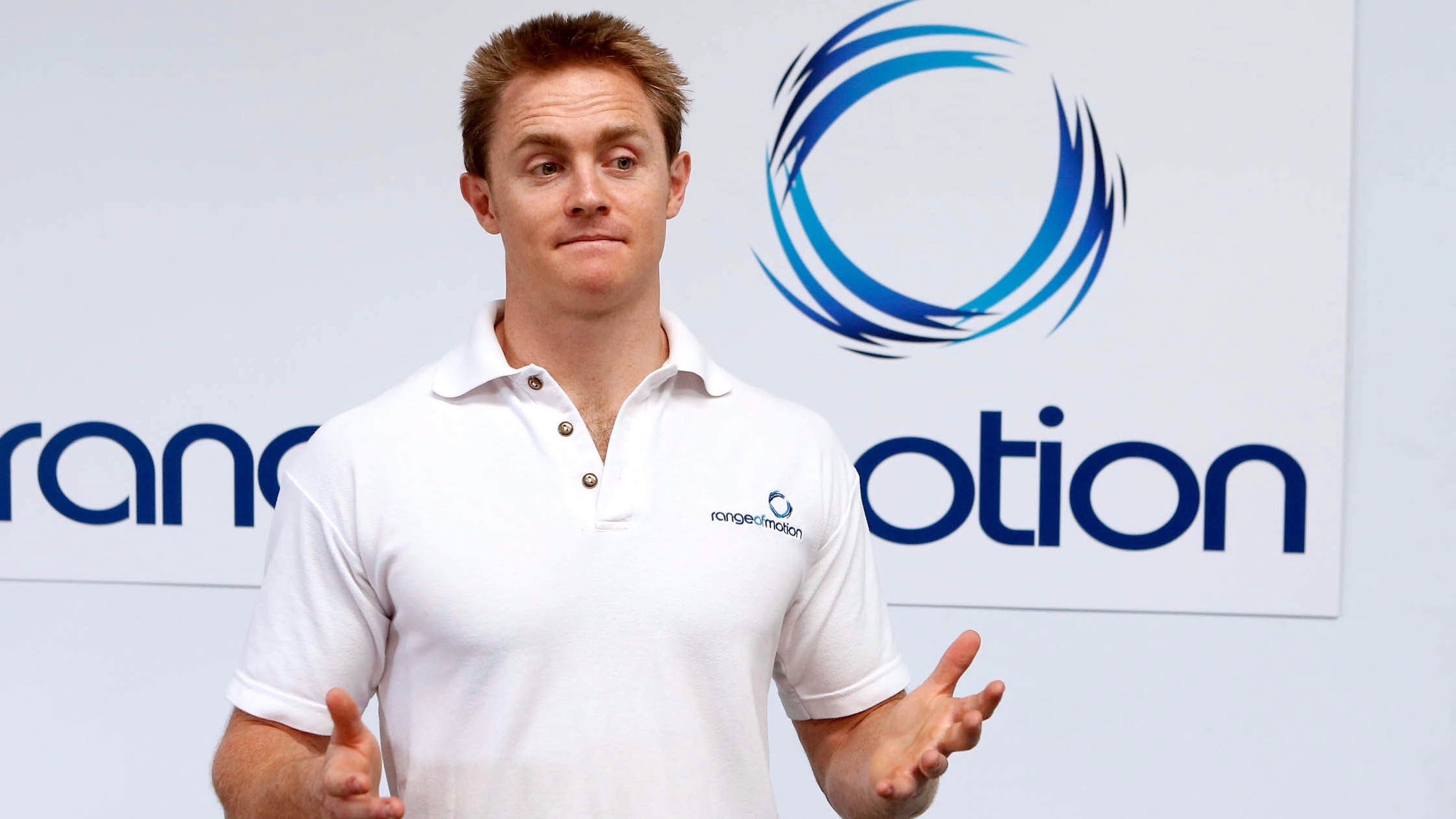 Range of Motion's Corporate Branch reaches large numbers of individuals, via business, through the administration of Corporate Health, Corporate Seminars and Specialty Seminars for Health, Fitness and Performance.
Contact us to discuss how we can help or scroll down to learn more.
Dan Williams Corporate Speaking
Revolutionise the health, fitness, happiness and productivity of your employees and clients.
Do you run a corporate health and wellbeing program and want to educate your employees on how to create positive long-term health habits?
As a Professional Speaker, Exercise Physiologist, Exercise Scientist and Director of 'Range of Motion', Dan Williams' keynote presentation focuses not only on the importance of exercise and exactly what people should be doing, but it also gives practical habit formation strategies to make healthy exercise a lifelong lifestyle. The lessons transfer into all areas of life, building habits and willpower to optimise all areas of human performance.
You attendees will learn:
What visiting your naked great great great grandfather in a time machine can teach us about exercise today.
How exercise gives you better orgasms.
The 20% of exercise that gives you 80% of the benefit.
How to burn fat while you sleep using the 'passive income' of the exercise world.
Why eating glazed donuts is better for your willpower than eating fruit.
Why motivation doesn't work and how to build habits that do.
Why sleeping in your clothes can increase gym attendance by 300%.
How marshmallows can strengthen your habit muscle.
How to create long term, permanent, positive behaviour change in your life.
Want a sneak peak at Dan in action? Check out some highlights here.
Specialty Seminars for Health, Fitness and Performance
Dan Williams presents on a range of topics for athletes and gym members of all levels. These presentations are either hosted by Range of Motion, or can be presented at your own location by individual arrangement. Dan is an Accredited Exercise Physiologist and Exercise Scientist with a Bachelor of Science and a Bachelor of Exercise Rehabilitation Science.
These fitness, nutrition and mindset specific presentations are categorised into:
Keynotes (3 hour presentations with  primarily theoretical and some practical components).
Seminars (Primarily theory based with limited or no practical component).
Workshops (Primarily practical based with limited or no theory component).
Corporate Health Programs
Range of Motion works with businesses of all sizes to maximise health through education, employee screening, exercise prescription, behaviour change support and environmental and policy change.
Investment in corporate health programs increases business success, through both individual and team based benefits. With business success measured in financial terms, the benefits of exercise in this setting must be measured similarly. Every dollar spent on corporate health has been shown to be returned sixfold.
Individual benefits: Reduction and management of stress, increased energy, improved health related quality of life, self concept, self esteem, self efficacy, self confidence, opportunity to challenge and strive for goals.
Team benefits:Increased social interaction, morale, efficiency and productivity.
Reduced healthcare costs, reduced absenteeism, reduced injuries and workers compensation.
Health Promotion: We undertake various strategies to aid in the promotion of a healthy lifestyle through education and positive behaviour change.
Health Screening and Assessments: Complete health screening and individualised reporting. Assessments differ depending on the individual business needs. Metrics include body composition, blood pressure, general physical conditioning, posture, flexibility, injury susceptibility, nutrition and mental health.  Includes recommendations to improve target measures.
Work Based Exercise Programs: One-off or regular work based fitness and conditioning program elicits drastic and immediate changes in proficiency across the ten components of fitness.
Corporate Seminars.