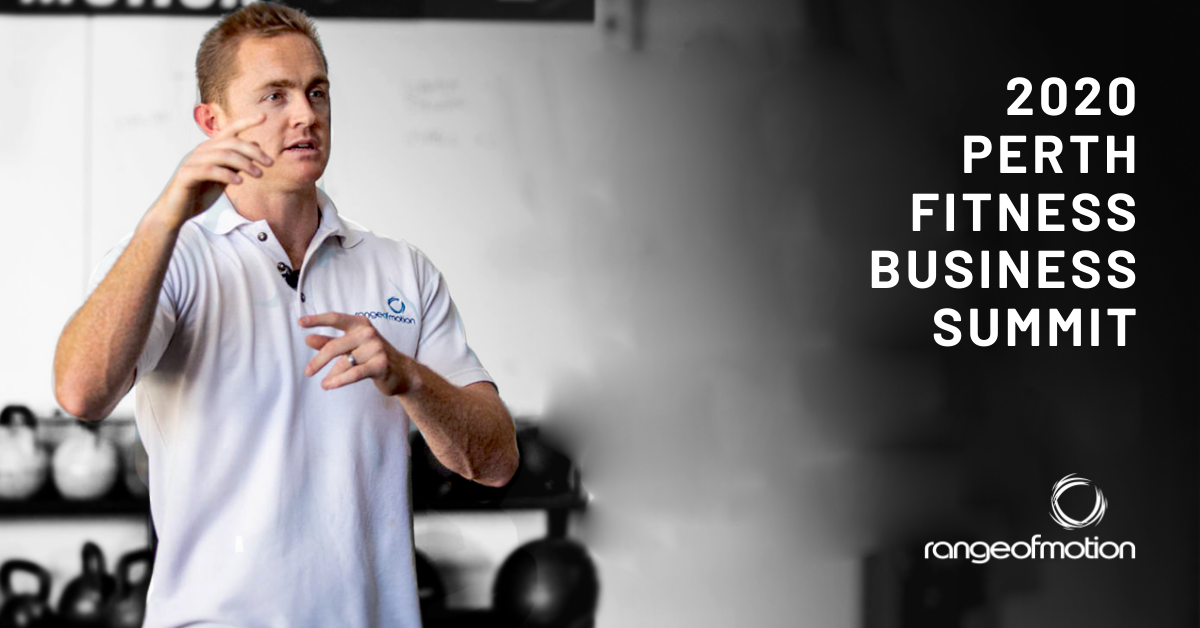 2020 Perth Fitness Business Summit​, October 4th. $447.
An intensive, one day, 13 hour fitness business development opportunity. In this interactive, hands on event, you will not only learn the systems and strategies to build a highly successful fitness business, but will undertake practical exercises to workshop and develop your business in real time.
Whether you're a Personal Trainer, a Gym Owner, or anyone in between, if you have an entrepreneurial spark and want to build a purposeful and highly profitable fitness business, this is for you. Secure your tickets.
Got questions about this event? Drop us a message now, or scroll down to learn more.
Running from 6.30am to 7.30pm, this event provides an intensive 13 hour, 11 module deep-dive into building and scaling a successful fitness business. The event is highly practical, with workshops during each module allowing you to implement what you've learnt in real time. Expand each module below to learn more.
Module 1: Designing your Mission and the Future of your Business.
We work backwards from your long-term business vision to establish the steps and processes you need to take to create business and personal success. Identify where your business is, and where you want it to go. All guided by your mission statement.
You will leave this module with:
A clear vision of the lifestyle you're pursuing, and the business that will support it.

A clearly defined vision and mission statement.

A roadmap between where you are, and where you want to be.

A list of 'one-off' actions and daily habits that you need to build to achieve the vision for your business.
Module 2: Building Epic Culture.
We will explore how to build your culture by determining your core values and the actions needed to uphold them. Culture isn't an accident. It's about deliberate and intentional design. We'll teach you how to undertake this cultural design.
You will leave this module with:
A first draft of the core values of your business.

An action plan to finalise your core values based on client/staff consultation.

A 'moral compass' that is specific and unique to your business to help guide future decisions.

A position statement for one of your core values, which you can replicate for your other values.

A checklist of examples of the behaviours that should be undertaken in your business to maximise your culture.

A system (specific to your business) that will ensure long-term adherence to your core values and development of your culture.

An action plan to launch and implement your core values.
Module 3: Finding Your Niche: Identifying your Unique Selling Proposition.
We work out what you do best, your unique selling proposition. This the key service you offer or the specific niche you help. Your USP is the basis of your business operations.
You will leave this module with:
A clear vision of what it is that you're best at, and how to build a successful business around it.
Module 4: Knowing and Tracking Your Key Business Numbers.
What gets measured gets improved. We break down the key numbers you should be tracking in your business and explore how to calculate  them over time to measure progress.
You will leave this module with:
The first draft of your KPI tracking spreadsheet – specific to your business.

An understanding of how to modify and pivot your business operations based on the long-term results and trending of your business numbers.
Module 5: Systemising and Automating Your Fitness Business.
Create automation and consistency in all levels of your service, from your interactions with clients to day-to-day operations to long term business success. We explore how and where to build systems to easily replicate high results across all areas.
You will leave this module with:
A detailed breakdown of the roles that need to be filled in your business (by yourself and/or staff). Includes a role description and key competencies for each role.

A detailed breakdown of all the tasks that need to be undertaken to ensure success for your business.

A series of systems and checklists, specific to your own unique business operations, to optimise your business efficiency.

A roadmap to creating your policies and procedures manual to give you a fully systemised and automated business.
Module 6: Identifying and Targeting Your Perfect Client.
In this module, we complete an exercise to identify your ideal client. Think of your current best client. Now imagine if you had 20 more just that them. This module will teach you how to get this perfect client.
You will leave this module with:
A detailed 'deep dive' into your perfect clients – exploring the demographics, personal characteristics, psychology, content consumption habits, levels of knowledge and awareness, buying behaviours and pain points.

A comprehensive list of the problems that need solving by your clients, allowing you to cross-check your product and position yourself as the authority in delivering what they need.
Module 7: Content Marketing and Automation.
We go deep in the tools, tactics and strategies that will allow you to create content marketing (video, audio and written) and use it to reach your potential clients, bringing them value and positioning yourself as an expert.
You will leave this module with:
A 'to do list' of content creation topics, specific to your business and your clients.

A fully completed blog/article that you've written under our guidance.

A fully completed and edited shortform video that you've scripted and filmed under our guidance.

A checklist for content creation to create valuable content though multiple forms of media and on multiple platforms.

A detailed plan of ongoing content creation.
Module 8: How to Craft your Marketing Message.
We explore the science and psychology of 'copy writing', creating a series of marketing messages that speak to your potential clients, regardless of their current level of product awareness. Use this module to extend your influence and reach for your target demographic.
You will leave this module with:
An understanding of how the different levels of customer awareness determine the format of your marketing message.

A blueprint to progress potential clients to long-term clients by varying the marketing message to progress them along the stages of awareness.

An understanding of how to tailor your marketing using the six different lead types.

A fully completed piece of marketing copy (text) which you'll construct under our guidance, and the knowledge of how to create future pieces of marketing.
Module 9: The Complete Guide to Social Media Advertising.
We go deep on the exact strategies to employ to create and launch Facebook and Instagram ads. You will leave with a roadmap of social media advertising.
You will leave this module with:
A knowledge of how to engineer a social media ad by understanding the campaign objective, audience creation, and the ad creative.

A completed social media ad, specific to your business and your target clients. We'll guide you through the creation of this ad to ensure you leave empowered to self manage your social media advertising in the future.

A knowledge of how to use the Facebook Pixel to retarget to potential clients who have visited your website.

A method of troubleshooting your social media ads to ensure they achieve maximal effect.
Module 10: Building a Referral Program That Keeps Giving.
The exact process you should follow to build a system that encourages your current clients to refer their friends – the strongest form of leads you can receive.
You will leave this module with:
A blueprint to create a highly successful referral reward program for your business.
Module 11: Crafting and Tracking The Client Experience.
The product we sell isn't exercise, it's an experience. In this module, we'll teach you how to create a long-term experience for your client, from the initial sales funnel, right through to them becoming a raving fan. We'll cover how to track your client's progress through this lifecycle.
You will leave this module with:
An understanding that the product your selling isn't a service or an outcome, but an experience.

A customised plan for the long-term experience your clients will receive as a part of your business.

An understanding of how to automate an email chain to guide your clients through their journey with your business.

A customised spreadsheet to allow you to track the progress of your clients over their lifecycle with you.
Module 12: Crafting an Exceptional Exercise Session Experience.
The exercise session is the main 'micro product' Fitness Professional provide. In this module, we discuss how to craft an experience that not only maximises the value you provide, but also ensures you're clients will not find better anywhere else, and will keep coming back.
You will leave this module with:
A fully designed process of how your clients 'flow' through each exercise session with your business.

A systemised client experience.

An individualised report card to 'self-assess' your ability to deliver a consistently exceptional experience to your clients.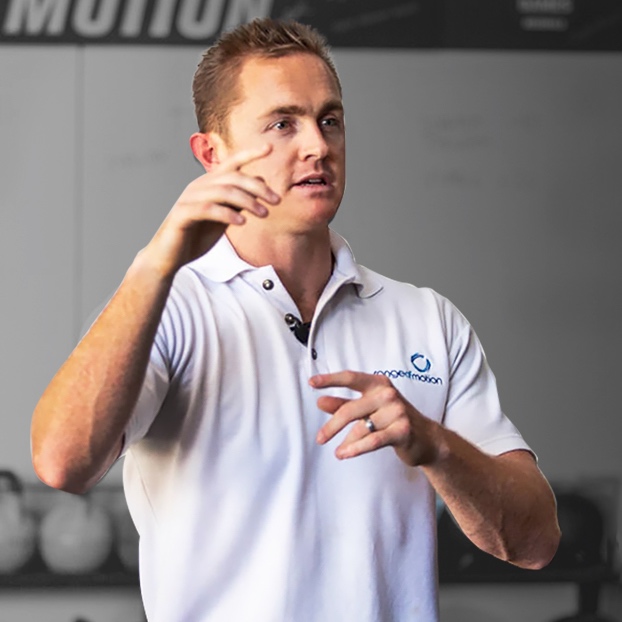 Dan Williams is the Director of Range of Motion and leads a team of Exercise Physiologists, Sports Scientists, Physiotherapists and Coaches. Dan founded Range of Motion 15 years ago, and has developed it into a highly successful, standard-setting health business.
Dan works extensively with Fitness Professionals through two types of Mentorship Programs. He consults as a Business Mentor to those looking to build more successful, impactful and profitable fitness businesses, and he helps Fitness Professionals develop their industry specific skills as part of his Fitness Mentorships.
Dan has a Bachelor of Science (Exercise and Health Science) and a Postgraduate Bachelor of Exercise Rehabilitation Science from The University of Western Australia, with minors in Biomechanics and Sport Psychology. He has conducted over 25,000 individual one-on-one sessions and consultations since he founded Range of Motion in, and has overseen the prescription of over a quarter of a million exercise sessions.
What Previous Attendees Thought:
I knew I would get a lot from this weekend but it was beyond my expectations! It left me feeling empowered, more confident, and looking forward to working on giving more to my business. I feel like I crossed a mental barrier somewhere in that weekend. I have already recommended to peers, to friends and to family!
A very well run, well scheduled and informative event. As a Physiotherapist… I am in the initial stages of starting my own business and Dan's systematic view of business, client acquisition information and tips are invaluable! A lot to think about and lots of work to do!
The Perth Fitness Business Summit with Dan was hugely informative and well structured. The content he provided has allowed me to expand my knowledge hugely. He is a great trainer, presenter and educator, and I would highly recommend this course to anyone.
What I loved about Dan was not only his passion but his genuine concern to do anything he could to help me and my business be better and grow.
The Professional Development Weekend was a well structured learning platform for Fitness Professionals just starting out or have been in the industry a while. The insight into how he structures and runs his own business is definitely something that I will be implementing into my future business. I can't recommend this course enough.
The course is perfectly suited for anyone who wants to improve on a variety of their skills, if you are looking at opening up your own business I highly recommend doing this course first. Thanks to Dan for his professionalism and his knowledge on everything he presented.
The weekend was packed with a wide variety of content both practical and theory based which was all relevant to the industry, there was so much I took away from the weekend! I would highly recommend this course to anyone in the industry who wants to take their operations to the next level!
This was an incredible experience which I would recommend to any Fitness Professional. The course was very informative with great content on marketing and business skills in which we can implement immediately and much more. I am very grateful for this opportunity which Dan from Range of Motion provided for us.
Dan has challenged my thinking and it has inspired me to keep reading and learning more every day, to take those steps further into my fitness journey passion and put into practice the tips, strategies and knowledge I have learned and gained from this weekend to taking the steps for launching my career platform, for what I hope will be in helping clients on their fitness journeys and more.
A truly great weekend meeting and learning from some great individuals, especially Dan. His passion and specific knowledge of the industry along with the science behind health and fitness is totally inspiring, a true credit and value to him and his hard work that has gone in building his business along with helping others to learn and succeed, so that we can become better more knowledgeable sources for what I hope will be in my case future clients.
The Perth Fitness Business Summit provided me with an extensive number of tools to add to my belt when it came to improving myself and my businesses in the health, fitness and people industry. On top of this, the marketing and business modules provided me with invaluable knowledge that I could take away implement into my business straight away!
Hear From Some of Dan's Business Mentoring Clients:
Range of Motion Business Mentoring teaches the strategies that we'll be covering in the 2020 Perth Fitness Business Summit, including:
Business systemisation.
Client acquisition.
Business growth and scaling.
Digital marketing.
Product development and client experience.
Business accountability and productivity.
Using the business development strategies that you'll learn in the 2020 Perth Fitness Business Summit, you will have a complete road map to creating a wildly successful business that gives you the choice and freedom to design the lifestyle you desire.
This event is part of Range of Motion's two-part Perth Fitness Industry Professional Development calendar for 2020. This includes the Perth Fitness Business Summit and the Perth Fitness Industry Professional Development Event (learn more). You can choose to attend one event, or both, with discounted rates for attending both events.
Please note that due to organising costs, tickets are non refundable.
Fitness Industry PD Event
Got questions about this event? Drop us a message and we'll get right back to you.